3-port Audio Video Mini Hdmi Switch / Switcher / Splitter with Remote Control
Product Code:
Mini Hdmi Switch
Availability:
In Stock
Price: Rs.1,999/=

<![CDATA[
Place of Origin:
Brand Name:
Model Number:
case:
port:
with remot control:
support:
Output Video:
Support:
banddanish:
3-port Audio Video Mini HDMI Switch / Switcher / Splitter with Remote Control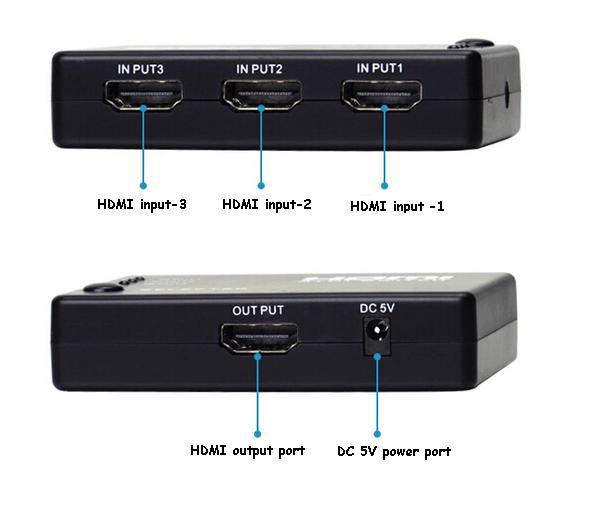 This is a high performance mini HDMI Amplifier Switcher.
This kind of HDMI Amplifier Switcher not only has the key-press-switching function,but also has the IR remote control and intelligent function.
That is to say,as soon as the power supply of the source equipment is switched,this switcher will respond automatically.
In addition,it is equipped whith standard IR extender receiver:safe and convenient.
it routes high definition video(in multiple resolutions up to 1080P) and digital audio from any one of the several sources to display units.
All inputs accommodate the connections of the high definition video sources simultaneously,compatible well for HD-DVD,Sky-STB,PS3,Xbox360,etc.The output sends the high definition audio/vedio signals to a high definition display.
Features:
Multifunctionsal on switching:intelligent or mechanical.
IR extender receiver(included)
IR remote(included)
Support HDMI 1.3b
Support highest video resolution 1080p.
Support 250Mhz/2.5 Gbps per channel(7.Gbps all channel) banddanish.
Support 12bit per channel(36bit all channel) deep color.
HDCP pass-through
Support uncompressed audio such as LPCM.
Support compressed audio such as DTS Digital,Dolby Digital(including DTS-HD and Dolby True HD).
Pacakge Contents:
HDMI Switcher x 1
Remote Control x 1

Specifications:
Maximum Single Link Range:1920X1080P
Output Video:HDMI 1.3b
Vertical Frequency Range:50/60Hz
Video Amplifier Banddanish:2.5Gbps/250MHz

Resolutions(HDTV):
Interlaced(50&60Hz):480i,576i,1080i
Progressive(50&60Hz):480p,576p,720p,1080p
Size(L-W-H):80X58X18mm
Weight(Net):55g
Operating Temperature: 0°C to +70°C
Operating Humidity: 10% to 85% RH(no condensation)
Storage Temperature: -10°C to +80°C
Storage Humidity: 5% to 9% RH(no condensation)
Power consumprion(Max): 5W
Product Scope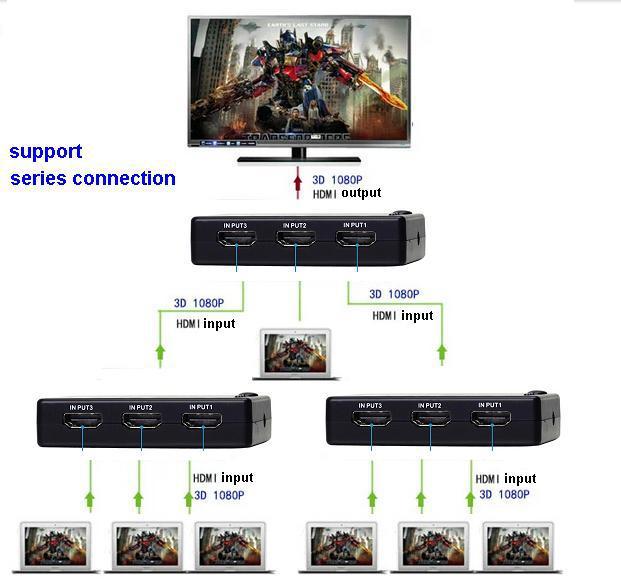 Write a review
Your Name:
Your Review:
Note: HTML is not translated!
Rating:
Bad
Good
Enter the code in the box below: